Paint Red Fire Station Doors
Ron Taylor gets a chance to paint red fire station doors. A tall order, but with the help of a tall painter, aka Charlie Budd, and oil-based Tikkurila paints, they came up a treat.
Fire Station Doors were a new one for me, but I recently completed a set of 3 in Warwickhire.
First impressions
I initially thought they were metal, but on inspection they seemed to be made of some type of composite. They weren't in bad condition overall, ie no flaking or cracking, but they had been repaired a few times in recent years and the existing finish was very dull. They also had a fair bit of road dirt and dust, especially the upper parts.
Day 1
A team of 3 started the first day, erecting the tower and sheeting the drive.
Then we got to work washing down the doors. First problem was the rubber surrounding the many windows. It was starting to chalk and it was very easy to smear black all over the red. The marks weren't easy to remove, as it stained the paint, so we had to take care to avoid the problem.
Once the doors were washed, (we didn't soak them) we let them dry for an hour or so, before sanding.
Sanding was done with various sanding sponges, blocks and Oakey 120 grit 'Between Coats' abrasive. The doors were then carefully dusted and tacked off.
The primer used was Otex Adhesion Primer.
Tinted to Fire Brigade Red by Holman Paints. This went on easily with a little Owatrol added and covered extremely well.
We used various brushes but came to the conclusion that the Corona 2″ Kingston and Knight gave the best mixture of application and finish.
Day 2
 
We didn't take the tower down, just wheeled it around the back, so with a light sand we were painting by 9 on the second day.
Two of us this time, and the finish was to be 2 coats of Tikkurila Unica, this is an oil-based satin finish. I had initially intended to paint the doors with water based topcoat but the poor opacity of some strong and dark colours in various makes put me off this option.
The Unica was a revelation for me. I've never used an oil based paint that went on as easily, covered so well, dried as quickly (touch dry) and seemed not to want to run at the slightest provocation. Superb product.
Day 3
2 of us again today and a quck dust down and on with the second and final coat of Unica. If anything, this coat went on easier than the first. Again it dried well and to a lovely, smooth satin finish. For someone who has been a water-based convert for many years, this product would certainly be on my shortlist for any exterior joinery and doors in the future.
Traditional Painter Ron can be found applying mainly water-based paints in and around Warwickshire.
Charlie Budd, friend of Traditional Painter and budding associate, is a busy decorator in the same county, and known to wear bananas on his head.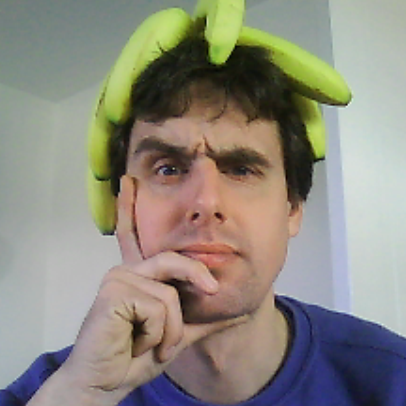 Follow him on Twitter, always entertaining.
Did you know, Fire Services used to be run by insurance companies, to protect the contents of the buildings they insured. Is there a reason beyond the instant eye appeal of red that explains why fire stations and fire trucks are red? If you know anything, let us know.
---
We appreciate you taking the time to read this.

Please share it on Twitter, Facebook, or print it out for reference. Thanks.
---
Please ask a question or leave a comment