Do you paint furniture?
Traditional Painter members tend to be painting wooden kitchens most days. However we are regularly asked, do you paint furniture?
Yes, we do!
And do you paint caravans? It depends.
And war memorials? Let's talk!
Can you paint a wooden stool?
I received an enquiry from the London area, about painting a stool.
As far as we are concerned, no job is too small to consider. The general stumbling block though is the price and perceived value for money.
If you are having your kitchen painted, it is a relatively straightforward and good value proposition to have small pieces of wooden furniture painted as an addition to the main project.
For instance, Mark Nash painted these stools as part of the project to paint a Plain English kitchen. He was already there, the furniture was there, it was a straightforward job.
Or if you have a suite of furniture to paint all at once, it can work out really good value to have a professional painter to complete it for you in situ.
But where the maths often doesn't add up is painting one-off pieces of furniture. For instance, with the best will in the world, it is cost prohibitive to go and pick up and paint a single wooden chair that cost £30 from a big box store. On top of the basic labour cost, you have to consider materials, (which will include a tin of the top coat colour that will hardly be used) and the logistics: the time picking up and dropping off a piece of furniture…
It never pays to make assumptions though.
Further to the enquiry from London to paint a stool
Mark Nash who covers the west side of London for Traditional Painter, is always busier than a busy bee painting large, medium and small kitchens. As always, though, "No job is too small" and he followed up the client's request for information.
This wooden stool was not exactly a bar stool from Ikea, and the owner really valued it. He was doubly delighted when Mark said that he was able to go and pick it up from his house, refurbish it and drop it back off.
This is that stool, completed exactly per the brief.
Mark can be contacted via this site or direct at mbnash.com
Some more answers to "do you paint furniture"?
Can you paint a piano stool?
No problem, if it comes with a piano to paint too! The story behind painting this piano.
We are now accepting commissions to hand paint pianos throughout the W Midlands, Warwickshire, Oxon, Kent and E Anglia.
Can you restore a war memorial?
It would be Mark's pleasure!
A while ago Mark Nash took up the challenge to restore a war memorial in Marlborough.
In brief
…you'll find two marker stones near the steps on the eastern edge of The Common. These commemorate the site of both a Secondary Modern School and the 347th Airbourne Military Hospital.

Users of The Common may have walked past this latter stone alongside the A346 without a second thought as the lettering was unreadable for some time. In 2015, Neil Stevens contacted us as part of his research into US GIs and, in particular, the history of the 347th Station Hospital that was based here from May 1944 to July 1945, looking into the possibility of restoring the stone.

Marlborough man, Mark Nash, a 3rd generation painter with a shared interest, volunteered his services and cleaned and repainted the stone in the spring of 2016." Marlborough council website
This radio interview with BBC Wiltshire just about covers it all. [Click the link to download. It should then open direct in iTunes or similar music manager.]
Can you paint a bath?
If you like the look of this wooden surround, and you are in the Nottingham, Derby or Leicester area, give Traditional Painter, Mac Devereux, a call.
The panelling (on both pieces of furniture) was hand painted, then a dragged effect was applied over the top. Finally, the dragged lines were gilded. Lots of options, beautiful results.
Mac has been decorating before time began, and it is rumoured he has heard the question do you paint furniture? more times than the rest of us have had hot dinners.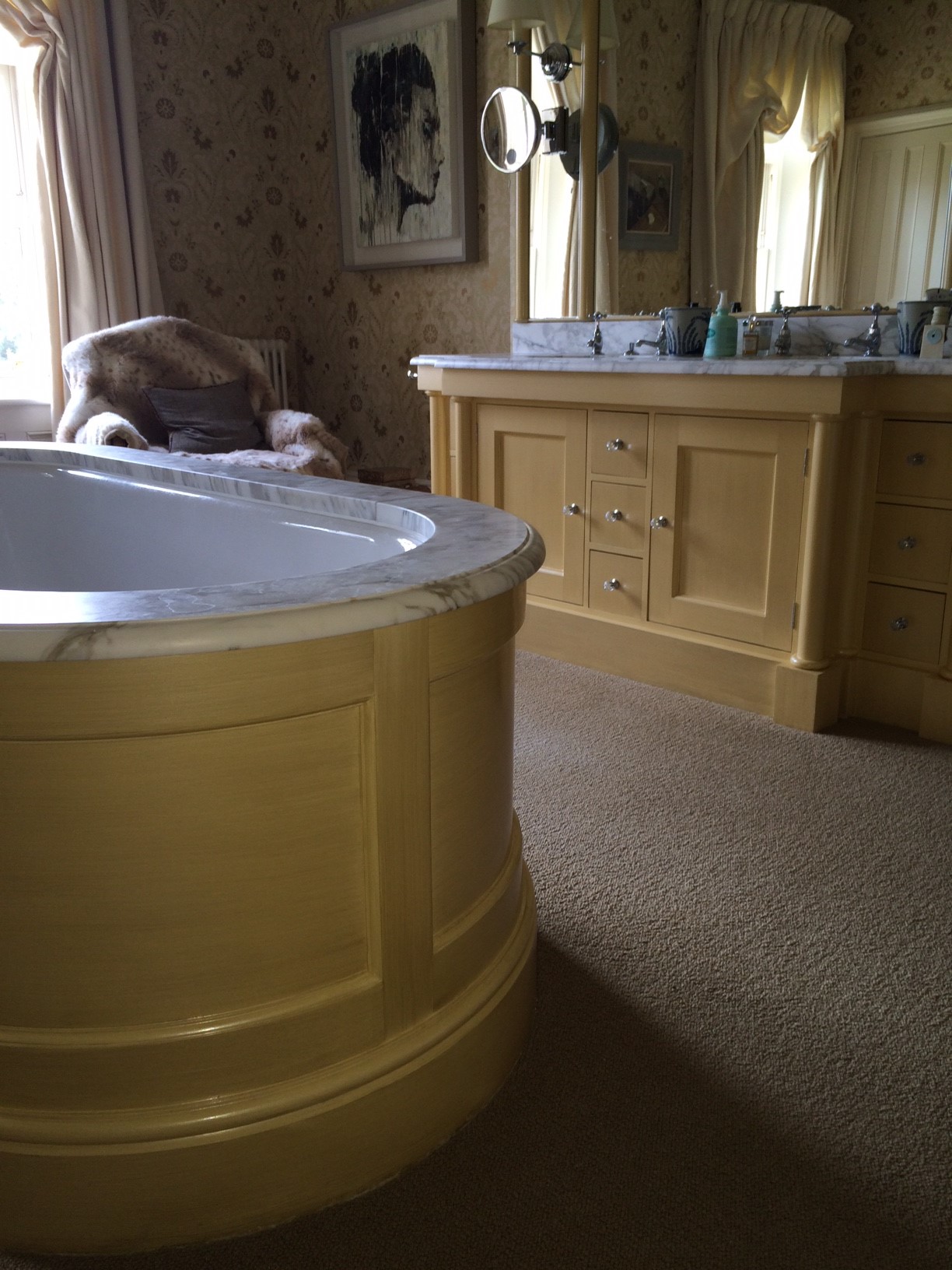 Read more of Mac's long history in the land of specialist painting.
Can you paint a one-off sideboard?
Sure. If you really value the piece of furniture.
This decorative effect with chalk paint completed by Richard Willott was certainly worth it to the interested parties at the Beeb.
Can you paint a caravan?
We have been asked to paint kitchens in caravans.
Now and again, we get an enquiry to paint the outside of a caravan. The usual image that springs to mind is a large white rectangular box made of assorted metal, plastic and composite materials. Painting the exteriors of that style of caravan is not really what we do.
However when our good friend Martin Dunn in Staffordshire had a call to paint an old caravan made of wood, his eyes lit up.
The owner's eyes must have been wide open too when Martin handed over the finished article.
It required scaffolding; thorough preparation, including rebuilding one of the wheels; plenty of product knowledge; a steady hand and an eye for detail. In other words, a project right up Martin's street. He can be contacted here.
Do you paint furniture?
Clearly furniture covers a wide range from free-standing kitchen cabinets to stools and everything in between and beyond. If you are wondering do you paint furniture, ask the Traditional Painter in your area to take a look.
A good challenge is always welcome. Contact us about flexing our specialist skills on pianos, caravans, or exotic pieces of furniture. Flat colours or decorative finishes on furniture by hand or with a spray gun; modern furniture enamel, chalk paint, spray can paint…
Lots more examples of furniture painted by Traditional Painter members
---
We appreciate you taking the time to read this.

Please share it on Twitter, Facebook, or print it out for reference. Thanks.
---
Please ask a question or leave a comment